The Northern Australian Conference has postponed or cancelled ALL the Conference events until further notice.
Thank you for making note of this and your understanding.
We will continue to monitor the situation and keep you updated accordingly.
While there is no offering bag coming past each week, you can still give your tithes and offerings. Click on the e-giving link where you will find a simple way to give online. For those who want to set up regular payments, download the e-Giving app to your phone and automate your payments!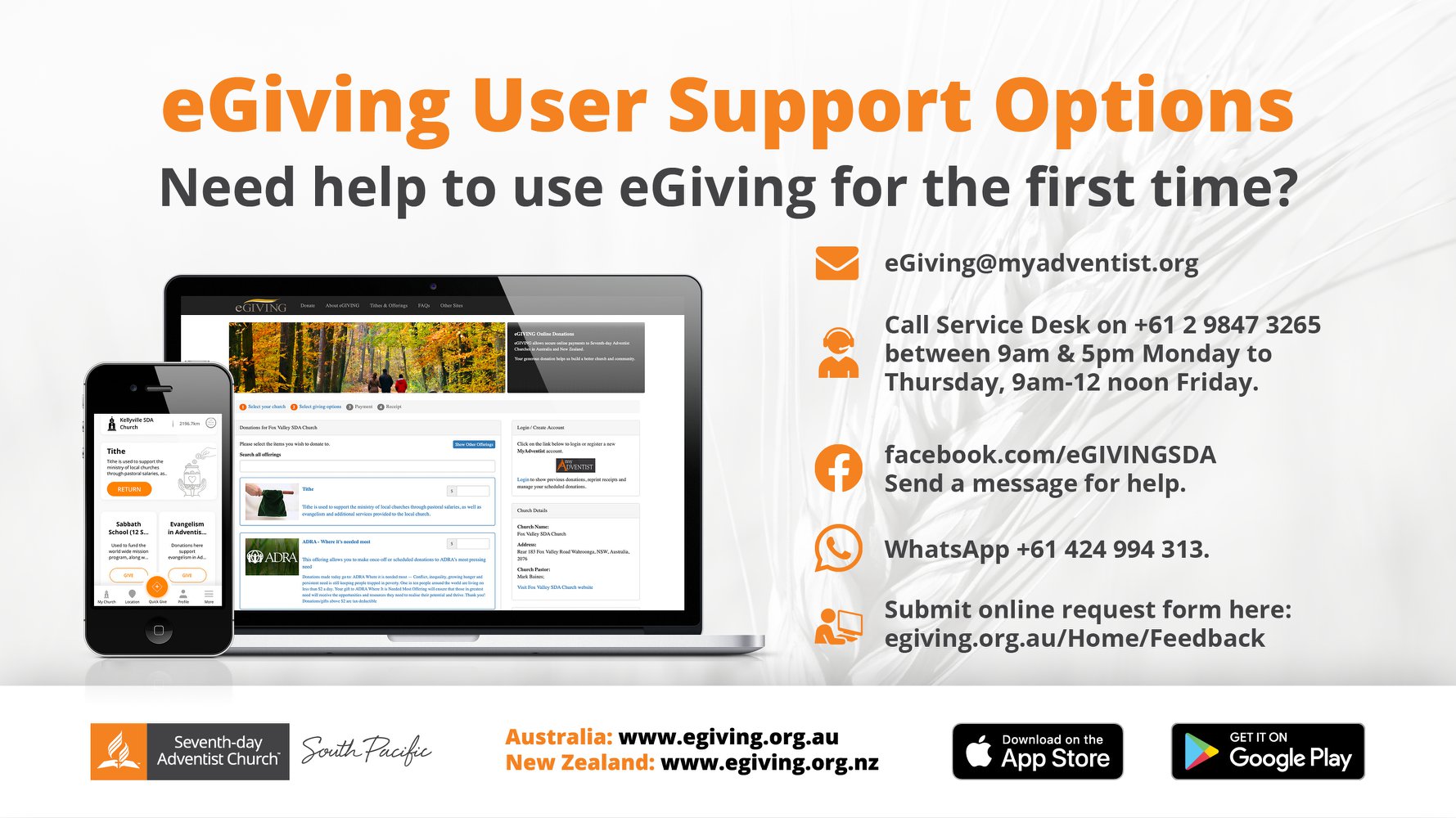 Mums at the Table, a ministry of Adventist Media, has launched a private Facebook group to help mums who are having difficulties buying everyday essentials for their family due to the panic buying phenomena brought on by the coronavirus (COVID-19) outbreak.
With restrictions on leaving our homes, worship doesn't have to cease. Find plenty of content and ideas here. This is a great option for reaching your church community and continuing to share the Good News of God's gifts of hope and peace. Please contact your Local Pastors to see what live streams are streaming within your Conference or other Conferences.
Faith FM
Hope Channel
The Incredible Journey
Disciple.org.au
Waymaker
In the short term, we advise consideration of the following
People who have returned from a country or region that is at high or moderate risk for COVID-19 should monitor their health closely. If you develop symptoms including a fever and cough you should isolate yourself immediately and urgently seek medical attention. Go to www.health.gov.au/covid19-travellers for the list of at-risk countries.
People who think they may have been in close contact with a confirmed case of coronavirus, should also monitor their health and seek urgent medical attention.
General Preventative Hygiene
Practising well hand and sneeze or cough hygiene is the best defence against most viruses. You should:
Wash your hands frequently with soap and water, before and after eating, after going to the toilet and in general.  This is not about just running your hands under water: it is about lathering and moving the soap over your skin for a minimum of 20 seconds. Water is used to rinse the soap, not to do the cleaning.
Avoid touching/rubbing your eyes, nose, and mouth.
Follow the coughing and sneezing etiquette: sneeze into the folded arm; cover your cough.
Take masks with you when travelling. Should you encounter situations where people cough and sneeze and are in close proximity, don't hesitate to use your mask (airports, airplane cabin, lobbies, malls, student classes and other gatherings, etc.).
If unwell, avoid contact with others (stay more than 1.5 metres from people).
Avoid travel to endemic areas.
General preventative measures around people
Avoid close proximity – enjoy your personal space and allow other to enjoy theirs. Maintain a social distance—at least 3 feet or 1. 5 metres—between yourself and other people. Avoid close contact with those who are coughing or sniffling.
Avoid physical touch – whilst we enjoy the handshake and appropriate hug, this is a time to avoid it.
Have your own supply of hand sanitiser on you.
While coronavirus is of concern, it is important to remember that most people displaying symptoms such as fever, cough, sore throat or tiredness are likely suffering with a cold or other respiratory illness—not coronavirus.
For the latest advice, information and resources, go to www.health.gov.au.
Call the National Coronavirus Health Information Line on 1800 020 080. It operates 24 hours a day, seven days a week. If you require translating or interpreting services, call 131 450.
The phone number of your state or territory public health agency is available at www.health.gov.au/state-territory-contacts.
If you have concerns about your health, speak to your family doctor.
Message from Pr Darren Slade – 10 December 2021
Message from Pr Darren Slade – 26 November 2021
Message from Pr Darren Slade – 12 November 2021
Message from Pr Darren Slade – 29 October 2021
Message from Pr Darren Slade – 15 October 2021
Message from Pr Darren Slade – 08 October 2021
Message from Pr Darren Slade – 24 September 2021
Message from Pr Darren Slade – 10 September 2021
Message from Pr Darren Slade – 02 September 2021
Message from Pr Darren Slade – 27 August 2021
Message from Pr Darren Slade – 13 August 2021
Message from Pr Darren Slade – 30 July 2021
Message from Pr Darren Slade – 23 July 2021
Message from Pr Darren Slade – 16 July 2021
Message from Pr Darren Slade – 18 June 2021
Message from Pr Darren Slade – 11 June 2021
Message from Pr Darren Slade – 28 May 2021
Message from Pr Darren Slade – 21 May 2021
Message from Pr Darren Slade – 07 May 2021
Message from Pr Darren Slade – 30 April 2021
Message from Pr Darren Slade – 23 April 2021
Message from Pr Darren Slade – 16 April 2021
Message from Pr Darren Slade – 26 March 2021
Message from Pr Darren Slade – 19 March 2021
Message from Pr Darren Slade – 12 March 2021
Message from Pr Darren Slade – 05 March 2021
Message from Pr Darren Slade – 26 February 2021
Message from Pr Darren Slade – 19 February 2021
Message from Pr Darren Slade – 05 February 2021
Message from Pr Darren Slade – 11 December 2020
Message from Pr Darren Slade – 04 December 2020
Message from Pr Darren Slade – 27 November 2020
Message from Pr Darren Slade – 20 November 2020
Message from Pr Darren Slade – 13 November 2020
Message from Pr Darren Slade – 06 November 2020
Message from Pr Darren Slade – 30 October 2020
Message from Pr Darren Slade – 23 October 2020
Message from Pr Darren Slade – 16 October 2020
Message from Pr Darren Slade – 09 October 2020
Message from Pr Darren Slade – 02 October 2020
Message from Pr Darren Slade – 18 September 2020
Message from Pr Darren Slade – 11 September 2020
Message from Pr Darren Slade and Pr Johnny Murison – 04 September 2020
Message from Pr Darren Slade and Pr Johnny Murison – 28 August 2020
Message from Pr Darren Slade – 21 August 2020
Message from Pr Darren Slade – 14 August 2020
Message from Pr Darren Slade – 07 August 2020
Message from Pr Darren Slade – 24 July 2020
Message from Pr Darren Slade – 17 July 2020
Message from Pr Darren Slade – 10 July 2020
Message from Pr Darren Slade – 03 July 2020
Message from Pr Darren Slade – 26 June 2020
Message from Pr Darren Slade – 19 June 2020
Message from Pr Darren Slade – 11 June 2020
Message from Pr Darren Slade – 05 June 2020
Message from Pr Darren Slade – 29 May 2020
Message from Pr Darren Slade – 22 May 2020
Message from Pr Darren Slade – 15 May 2020
Message from Pr Darren Slade – 08 May 2020
Message from Pr Darren Slade – 01 May 2020
Message from Pr Darren Slade – 24 April 2020
Message from Pr Darren Slade – 17 April 2020
Message from Pr Darren Slade – 10 April 2020
Message from Pr Darren Slade – 3 April 2020
Message from Pr Darren Slade – 27 March 2020
Message from Pr Darren Slade – 20 March, 2020
Video from Union President Pr Jorge Munroz
Message from Pr Alfredo Campos
Pr Sigi Paleso'o
Dear Coronavirus, Here is a message from the whole world to you
Dear Grandparents, Here is a message from the whole world to you